Dammit nobody told me Marvel was hiring people to draw tentacle pr0n!
A quick doodle, after that Heroes for Hire v2 #13 cover: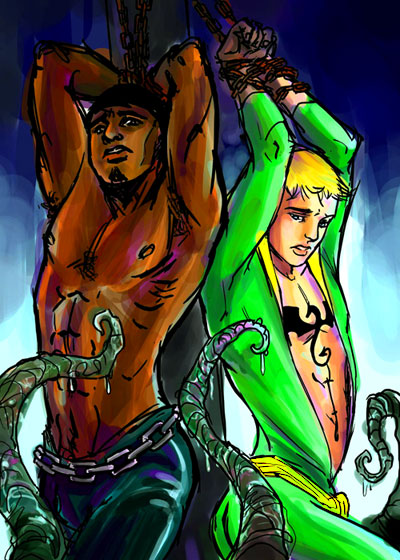 I'm sorry Danny, drawing your mask and tattoo drive me nuts. Actually drawing your entire costume is hard. And... Luke, somehow you lost your shirt (and half of your goatee? I have no idea what you look like now but I refuse to draw your tiara!), but at least you're not covered in goo? Or bleeding. Um.
I'm used to drawing the way more suggestive type of tentacle so this is a step back! Haha! Ha! Wait that's not a ringing endorsement, is it...
Hire meeee Marvel, I love drawing naked to near-naked people doing funny things!
... Okay this was not suppose to be the contents to my first post to this community. Er. Hi.